If you see a major fall in your website traffic that looks something like this, you've likely been penalized by Google.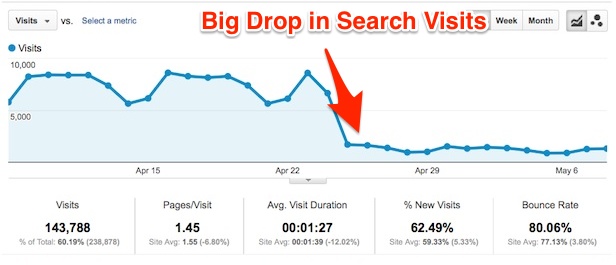 Still, it's not enough to know that you've received a penalty; you need to know what caused it and how to avoid Google penalties in the future.
Google Penalties
Google has two types of penalties: manual action and algorithmic penalties. Manual actions can be found in Google Webmaster Penalties in the form of notifications. Here's an example of one such warning:
Algorithmic penalties, on the other hand, are the result of changes within Google itself. You'll have to match the date when you lost traffic with the date of a Google updates. You can check Google Algorithm Change History for this data. The reason your ranking suffers due to these updates is likely from Panda, which focuses on content, or Penguin, which focuses on backlinks.
Avoiding Penalties
Bad Backlinks
Certain backlinks can damage your ranking. These include:
Penalized or banned websites
Websites with duplicate content
Websites unrelated to your audience and niche
Spam comments
Websites with thin content
Links from sidebars, footers, or widgets
Hidden text
Links from adult or gambling sites
"Sneaky" links, like cloaking, redirects, link schemes, auto-generated content, etc.
Over 95% of Google penalties come from your backlink profile, so avoid these kinds of links on your site. Learn more about bad backlinks at Google's Webmaster Guidelines.
Automatic Direct
If you are using any automatic direct submission tactics, stop doing so right away. Automatic website submission causes your blog to look like spam. This can cost you your page rank, or even cause the complete removal of your blog from search engines.
Keyword Stuffing
This one gets caught by Penguin very quickly, plummeting even pages on a website anywhere from 10-100+ spots! Keyword stuffing refers to overfilling a page or post with your keywords, so much that it can't read naturally and looks like spam. This is Google's example of keyword stuffing:
Anchor Text
Anchor text refers to the text highlighted in a hypertext link. This text should be relevant to the page, and not just generic text. Using this wrong will inhibit your site from a high ranking. Plus, aggressive text can land you a penalty.
Boosting Your Rank
Whether you're recovering from a Google slap or just trying to improve your ranking, it's important to know how to accomplish this without getting penalized (again).
Improving Your Content
Rather than simply cramming keywords and calls-to-action into your posts, tell a story. Stories grab your audience's attention, and can improve your conversion rate. And, as part of these stories, you'll need to fill it with personal experiences, including case studies, and a relatable tone. Write first, and then find ways to insert SEO keywords in afterward.
Another way to improve your content is to improve your headline. It must be relevant and invoke curiosity. And, if you want it to stand out, try adding numbers, such as "5 Blogging Tips for Stay-at-Home Moms."
Remember to add images! Content with at least one image significantly outperformed content without any images. However, additional images may not influence ranking beyond one image.
Improving Your Site
Site speed matters. Based on data from Alexa, pages on fast-loading sites rank significantly higher than pages on slow-loading sites. Consider trimming some of your plugins if necessary, or reduce the size of your images as a start if your site moves slowly.
Web Directories
Submitting your blog to web directories is another of the easy ways to get backlinks. With that said, this method has become unpopular these days, because finding a legal web directory is not easy. You must especially avoid those web directories that ask you to create a backlink to their website to get their website into a directory.
Petitioning Google for Reconsideration
If you have gotten smacked, you can petition Google to reconsider the penalties on your site. You must only do this after correcting your site's issues. Once you've pruned unnatural links, fixed layout issues, and tidied your content, you can send them a request for reconsideration.
Remember, it's doable to recover from a Google penalty. The trick is simply to find out what caused it, and quickly remove it.
Have you ever been penalized on Google? We'd love to hear and learn from you!